28 Nov

Sr. Gill Goulding, CJ on the Congress on Child Dignity in the Digital World October 3-6, 2017, Rome

October 3-6, 2017, Rome – Child D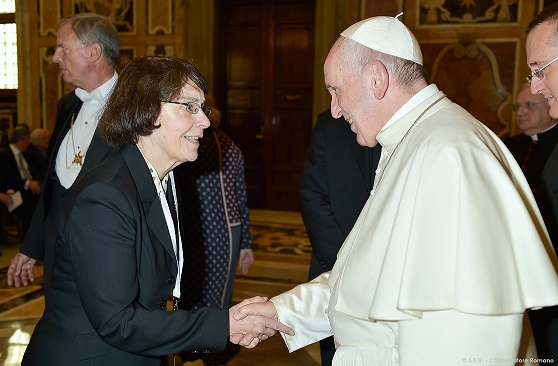 ignity in the Digital World was the first congress of its kind and "opens a whole new scenario," said Fr. Hans Zollner, S.J., the president of the child protection center at the Gregorian University in Rome. Today, children make up over a quarter of the 3.2 billion internet users worldwide. This generation of over 800 million young users is vulnerable to new forms of harm and abuse, including trolling, cyberbullying, sexual extortion, sexting and grooming for sexual exploitation.
The secret, scary world of children being groomed, abused and radicalized on-line was the subject of a short video shown at the beginning of the Congress. It featured seven boys and girls, from toddlers to teens, talking about how easy it is to fall prey to internet paedophiles, traffickers, bullies or recruiters for extremist organizations. It was a sobering start to this World Congress, which brought together top researchers, government representatives, law enforcement officials, software specialists, NGOs and religious leaders.
Online abuse is a global problem and the congress drew delegates from countries across the world, including China, Russia, Saudi Arabia and the United Arab Emirates. But, as Fr. Zollner pointed out, in too many countries the problem of child abuse is still a taboo that is not openly talked about. Organizers of the Congress hope that it has brought new awareness and marks the start of a new global leadership, committed to keeping children safer on-line. Regis is considering ways in which some of the work of the Congress may be integrated into ministerial programs.
Concluding the event, there was a papal audience for participants where a declaration from the Congress was presented to Pope Francis and signed by him.