28 Jan

Meeting the Jesuit Scholastics at Regis College: Niall Leahy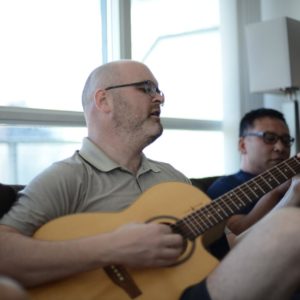 Born in Ireland, Niall grew up in Blackrock, Co. Louth, and moved to Dublin to attend university and pursue a career in accountancy. It was during those years that he came to a greater love of God and the Church. Ardently wishing to serve God, he entered the Society of Jesus at the age of 27. Before coming to Toronto, Niall lived and worked at Clongowes Wood College, a Jesuit boarding school for boys. He taught business and French, and he assisted with pastoral activities in the school. Niall is currently in his third year of the M.Div. program at Regis College. Next year he hopes to do a post-graduate degree in theology and ecology, possibly in the UK.
One of Niall's favourite pastimes is singing; he sings weekly with the Regis College choir during our Wednesday Liturgies, and he sings at the young adult Mass at the Newman Centre, U of T. His favourite band: The Oh Hellos because "their music is so alive and full of subtle Christian and biblical references, without being overtly religious. I also love John Denver, because his songs fill up my senses." Niall's passion for music does not end there –he writes songs as well! His love for songwriting and ecology came together in a song he composed about a small eco-retreat centre in Portugal called Casa Velha. The song is called "He Shepherds Me," because the chapel in Portugal is named after Jesus the Good Shepherd. This song, as well as many others composed by Niall can be listened to here.
In an interview Niall described his experience as a Jesuit scholastic studying at Regis College, U of T.
Describe what it's like being a Jesuit scholastic at Regis College:
Somebody recently described Jesuit scholastics as "guys who take God very seriously but who don't take each other seriously at all." There is a lot of truth in that! Regis is a place where we can study hard and also let our hair down with each other. There is a close fraternal and, at times, jocular dynamic between the scholastics here.
What are your favourite classroom/tutorial topics and why?
I enjoyed and learned a lot from the ethics courses that I took here. In particular, I appreciated how Pope Francis's encyclical Laudato Si' draws on insights from both theology and the natural sciences to highlight the scope of the problems facing humanity and to provide guiding principles for the future.
 Describe the academics at Regis College:
We get good input from professors but we are certainly not spoon fed. We are encouraged to be proactive in our own reading and learning. I also appreciate the dual requirement to understand the Catholic theological tradition and how to apply it in real life.
If you had to describe Regis College in 5 words, what would they be?
Theology Ad Majorem Dei gloriam (For the greater glory of God)!
What have you found most valuable about the community at Regis College and why?
Being a scholastic at Regis is a bit like being in the middle of a very large family. At times I am like a big brother to some of the younger students.  At other times I find myself looking up to or leaning on the professors and older students, who have a lot of experience. I am grateful for this richness.
What is your favourite extracurricular activities at Regis College?
Undoubtedly going for coffee with Regis friends!