23 Feb

New Publication by Erica Siu-Mui Lee!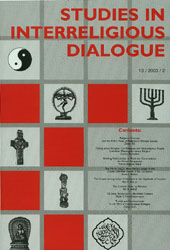 Title: 'Sagehood' in Confucianism and the 'Universal Call to Holiness' in Roman Catholicism
Author(s): LEE, Erica Siu-Mui

Journal: Studies in Interreligious Dialogue
Volume: 31 Issue: 2 Date: 2021
Pages: 117-127
DOI: 10.2143/SID.31.2.3290055
Abstract :
Confucian classics emphasize a harmonious, just and sage ruler. Neo-Confucian philosopher Wang Yangming is equanimous in his extending sagacity to all. In keeping with the Catholic Church's 'universal call to holiness' in the Second Vatican Council, this article explores a dialogue between equanimous sagacity and the 'universal call'. With a brief account of the historical context of these two traditions, this article compares their ways to strive for sagacity and holiness, which are ultimately related to Confucian ren (benevolence or humaneness) and Christian love respectively. In the final section, we examine how these paths to sagehood and holiness are not mutually exclusive, but could be mutually enriching.