24 Nov

In memoriam: Fr. Ovey N. Mohammed, SJ

April 5, 1933–November 28, 2020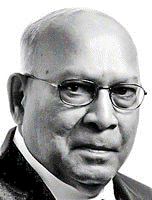 It is with heavy hearts that we notify Regis College and the broader TST community of the death of Fr. Ovey N. Mohammed, SJ. Fr. Ovey died peacefully in the early morning of November 28, 2020, at the Rene Goupil House in Pickering. He was 87 years old, and in his 51st year in the Society of Jesus.
Fr. Ovey was born in Trinidad in 1933 to Nelson Ali Mohammed and Rosabella McKenzie. He studied at St. Mary's College in Port of Spain for four years. In 1950, he was received into the Catholic Church. After moving to Winnipeg, Manitoba, Fr. Ovey studied at United College and the University of Manitoba, earning a BA in English (1960), an MA in Classics ('62), and a Bachelor of Education ('64) at the latter. He continued his studies at the University of Guelph, where he earned an MA in Philosophy (1971). On August 30, 1969, Fr. Ovey entered the Society of Jesus in Guelph; he pronounced his first vows on Christmas Day, 1971. Given his age and previous education, he proceeded directly to his theological studies at Regis College, at its then Willowdale, Toronto location. Fr. Ovey was granted his doctorate in theology from St. Michael's College in 1975, and, on June 7th of the same year, received the sacrament of Holy Orders.
Until his move to Pickering in 2020, Fr. Ovey spent most of his life at Regis College, where he is remembered for his invaluable service and personal commitment to the College. In addition to teaching systematic theology, Fr. Ovey was the Director of the Extension Division early on, and, later, Acting Director of Basic Degree Programs. In Fall 1989, he was the Nash Lecturer at Campion College, Regina. Fr. Ovey became a professor emeritus officially in 1998, but for the next two decades he continued to be actively involved at Regis College, teaching, tutoring, supporting student theses, and even stepping in as Acting Dean in 2001.
Fr. Ovey was well known for his work in interfaith dialogue. In an interview, he explained this interest: "I was born of a Hindu mother and a Muslim father and was fortunate enough to have lived in different parts of the world. These experiences, combined with graduate studies in world religions, have made me multicultural and multireligious and explain my interest as a Jesuit in interfaith dialogue." Fr. Ovey received an honorary degree from the University of Sudbury in 2013 for his contributions to interfaith dialogue. Please see below for a bibliography of Fr. Ovey's work and its reception.
When the COVID-19 pandemic began in early 2020, Fr. Ovey moved to Pickering, where he could receive medical assistance as needed. Regrettably, he contracted the virus, although he remained asymptomatic. Once recovered, Fr. Ovey resided temporarily in the La Storta community, participating enthusiastically in community life there until deteriorating health necessitated his return to the Rene Goupil House in Pickering. He spent his last weeks there, much beloved of his fellow residents and the staff, before dying peacefully on November 28, 2020.
Fr. Ovey was a gift to Regis College. He will be remembered by all for his intelligence, warmth, and—often piquant—sense of humour.
A funeral Mass for Fr. Ovey will be celebrated on Friday, December 4, 2020. A memorial Mass for him will also be offered by members of the Regis College community on Wednesday, December 9, 2020; to view a live stream of this Mass, please email regis.studentservices@utoronto.ca, or call (416) 922-5474.
Donations to Regis College would be appreciated as expressions of sympathy. Donations may be mailed to 100 Wellesley Street West, Toronto, ON M5S 2Z7, or submitted through the Regis College online donation form.
Please pray for the repose of Fr. Ovey's soul.