22 Nov

Francis X. Clooney, SJ of Harvard Divinity Gives 2019 Chancellor's Lecture & Receives Honourary Doctorate

On Friday, November 22, Rev. Dr. Francis X. Clooney, SJ, Parkman Professor of Divinity at Harvard University, delivered the annual Chancellor's Lecture at Regis College. The following day, he received an Honourary Doctorate at Regis College's 2019 Convocation Ceremony.
Chancellor's Lecture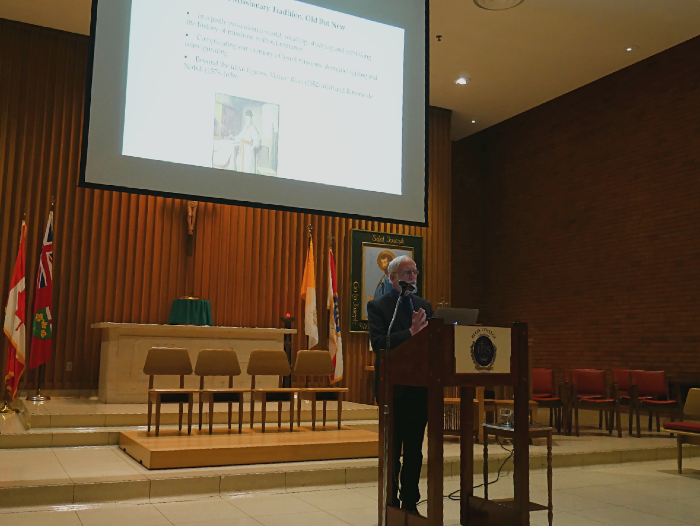 Fr. Clooney spoke on the topic of "Constantine Beschi, SJ (1680-1747): Inventing a South Indian Catholicism with the Help of St. Joseph".
Constantine (Costanzo Gioseffo) Beschi was an Italian Jesuit who worked as a missionary in southern India from 1710 to his death in 1747. While much of his time was spent as an administrator of the Jesuit mission, he also managed to create the first Latin-Tamil dictionary, and produced a famously beautiful epic poem, the nearly 4000-verse Tempavani (The Unfading Garland). The Tempavani is a retelling of the birth and early life of Jesus from the perspective of St. Joseph, in a similar vein to epic ancient Indian poetry like the Mahabharata or Ramayana. In the words of Fr. Clooney,
"Beschi's most famous work, the nearly 4000 verses of Tempavani (The Unfading Garland), offers an eloquent and grand re-telling of the story of the birth and early life of Jesus, with full awareness of the whole Biblical story, with due attention to the role of the Virgin Mary but particularly from the perspective of St. Joseph.
This retelling is characterized by complex versification, lavish imagery, and delight in natural and moral goods he believed present even outside the Christian world. His ultimate goal was to describe a natural world, already beautiful, that is made all the more radiant by the incarnation of the Son of God as Jesus of Nazareth. 
Beschi does not hesitate to preach a Christian message, but his practice, as missionary and writer, is to proceed by a "way of beauty" – rather than by norms of truth alone, or solely according to the demands of justice. He thus seeks to resolve the problem inherited from Roberto de Nobili and other great predecessors: how to preach the Christian difference in a way that esteems rather than ignores or abuses the best of Indian culture?"
Clooney stressed the relevance for modern Christians of the project undertaken by Beschi; we must find ways to situate the Gospel that truly 'speak the language' of those to whom we intend our message to reach. As the Good News of Christ is "ever ancient, yet ever new", we can always find resonances between the Gospel and the symbols, signs, customs, and culture of our present age. Clooney noted that perhaps the model of Constantine Beschi (along with others who have applied the Gospel message in new and novel ways to their times, such as author J.R.R. Tolkien) can inspire us regarding how to be more effective evangelizers in the contemporary context.
Honourary Doctorate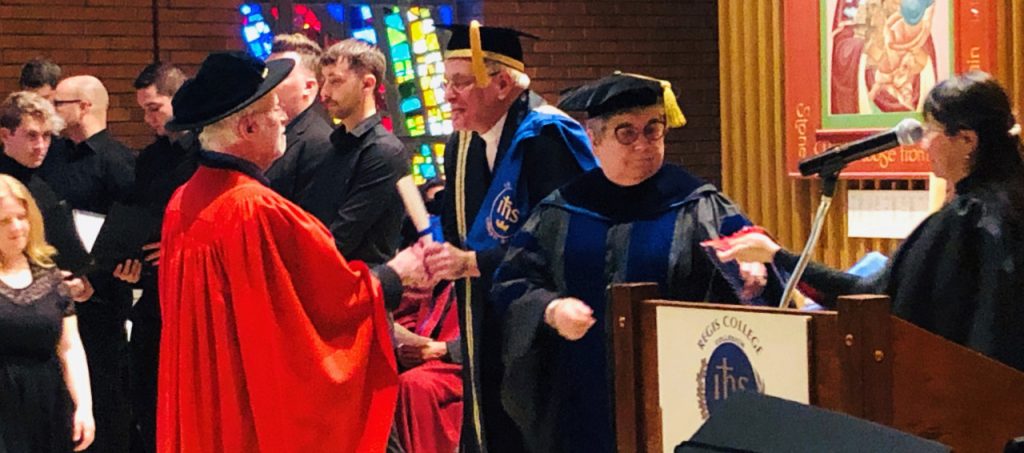 The following day, Rev. Dr. Clooney received a  Doctorate in Divinity, honoris causa, with citation read by President of Regis College Thomas Worcester, SJ, and degree conferred by Erik Oland, SJ, Chancellor of Regis College.
Our thanks to Fr. Clooney for traveling from Boston to join us for the weekend's celebrations, and for his continued support of Regis College and its mission.