24 Jan

Dr Moira McQueen's new book: Walking Together, A Primer on the New Synodality

After attending the Synod on Marriage and the Family, Dr Moira McQueen became deeply interested in the possibilities that the practice of synodality opens up for all members of the Catholic Church. Walking Together is the result of that interest, and she invites you to discover more about this experience for yourself as you think about your answers to the Synod questionnaire.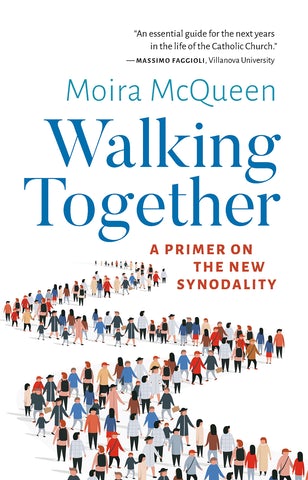 "It is precisely this path of synodality which God expects of the Church of the third millennium. What the Lord is asking of us is already in some sense present in the very word "synod". Journeying together — laity, pastors, the Bishop of Rome — is an easy concept to put into words, but not so easy to put into practice." Pope Francis, 17 October 2015
Dr Moira McQueen's new book, Walking Together, A Primer on the New Synodality, prepares the way for 'walking together' according to the vision of Pope Francis. It aims to explain the history, meaning and relevance of synodality for the Church as it undertakes a two-year process in developing its structure and the laity's role in doing so. The Primer's relevance is that it also provides context NOW, while laity are in the process of completing the questionnaires, open to all, that are to be returned to the Office of the Synod to inform the next step of the synodal journey.
Your ministry will most likely engage you in participating in this journey. Walking Together will contribute significantly as a guide to the understanding and objective of synodality as well as its challenges and opportunities for the whole Church, including the contributions of the laity.
For those engaged in parish ministry, education, leadership and evangelization, the Reflection Questions after each chapter open the way for a closer reading, a focus on specific areas, and discussion.
Walking Together, A Primer on the New Synodality is available in Canada on the Novalis website in e-book form and in published form from the end of January 2022 (https://en.novalis.ca/).