16 Jan

Ignatian Spirituality Project – Toronto

The Ignatian Spirituality Project (ISP) began in 1999 in Chicago when Fr. Bill Creed, SJ was asked to make the Spiritual Exercises of St. Ignatius available to people with experiences of homelessness. Today, ISP is an international network with retreat programs in 30 cities in the United States and Canada. Over 800 volunteers serve more than 2,000 retreatants a year through over 200 retreats. In the fall of 2016, ISP expanded to Toronto where, through an innovative partnership with Regis College, we provided our first ISP-Toronto retreats. 

At first glance, the name and focus of our program, the "Ignatian Spirituality Project," may appear confusing. How can a spiritual retreat end homelessness? Shouldn't material resources be the primary focus for the poor? And aren't spiritual resources already available through parishes and other forms of ministry outreach?

Yet the need for a spiritual retreat program that suits the specific needs of people with complex histories of homelessness and addiction makes sense. So often, people who experience addiction and/or homelessness are made to feel unwelcome. Physician Gabor Maté describes how our fear of the addict casts him or her as a scapegoat whom we must "banish to the margins of society." This deep-rooted sense of being unwelcome may place options like attending Mass or church out of reach for many who still maintain an interest in and need for spirituality.

In 1998 Fr. Bill Creed, SJ and Ed Shurna, Director of the Chicago Coalition for the Homeless, founded the Ignatian Spirituality Project (ISP) in Chicago in order to make the Spiritual Exercises of St. Ignatius more accessible. Now an international network across the United States and Canada, ISP provides spiritual retreats for individuals on journeys of healing and recovery, blending the wisdom of Ignatian spirituality with the language of the 12-Step recovery program.

The spiritual but not religious structure of an ISP retreat is a welcoming way for women and men with interest in spirituality to connect more deeply with God, as they understand God, and to learn how to navigate their spiritual journeys. In the Ignatian style, retreatants pray, meditate, and reflect on scripture and other passages. The retreat is provided at no cost to the retreatant and is designed to cultivate community, hope, and inner freedom. As retreatants share stories of their personal journeys in the context of a supportive group, they experience a movement from isolation to a sense of belonging, a sense of being home. There is no preaching on a retreat, nor distinction made between "retreatant" and "facilitator". Instead, all participants are together on a spiritual journey.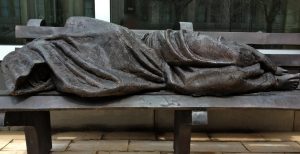 In recognizing the common humanity of one another on retreat, we are reminded that Jesus also entered into sharing our humanity and is very present in the lives of people experiencing of homelessness. In the words of Pope Francis, "Jesus not only wanted to show solidarity with every person. He not only wanted everyone to experience his companionship, his help, his love. He identified with all those who suffer, who weep, who suffer any kind of injustice."
It is our calling to be present with those who suffer not only to demonstrate care but also to grow in compassion and love as we discover the similarities in each another's stories. The retreat becomes a training ground for those preparing to enter other types of ministry, work and leadership. There is a reciprocity and mutuality of transformation on retreat—where those who are "ministered to" are found to be the true "ministers."