13 Dec

Fr. Thomas Rosica, CSB, delivers the 2018 Chancellor's Lecture and receives an Honourary Degree

On Friday, Nov. 23 Regis College welcomed a familiar face to campus. Fr. Thomas Rosica, CSB, CEO of Salt & Light Catholic Media, and alumnus of Regis College [1985], delivered this year's Annual Chancellor's Lecture, "Doing Theology in the City." The Regis College St. Joseph Chapel's capacity  was filled as attendees gathered to hear our internationally renowned guest speak on this topic.

In his lecture Fr. Rosica spoke about how we, as theologians, can be more effective in the city in which we live and do theology. "Theology is inherently an act of prayer…we study theology to build up the body of Christ," Fr. Rosica began. He continued, God does not work only within the church – He also works in the world. He works within the brokenness of our hearts. Our role then, as theologians and as Christians, is to go out into the world, Fr. Rosica said, for that is where the wounded are –  those who are in need of the truth of  the Gospels. Fr. Rosica encouraged us to be mobile like "field hospitals," bringing the Good News to all people. The field of theology impacts not just the church, but rather the world at large: "The field is the world – not only as the object of the Christian mission in history, but as the catalyst of the Spirit awakening the consciousness of the church itself. The field is the very cities in which we find ourselves," Fr. Rosica said.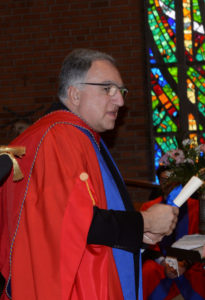 Fr. Rosica reminded us of two papal documents for living out our theology: Laudato Si', the Encyclical Letter On Care for Our Common Home, and Gaudete et Exsultate, Pope Francis' Apostolic Letter on the Call to Holiness in Today's World. These works, Rosica said, are not intended for the clergy alone, but for every lay member of the church. Fr. Rosica concluded his lecture by emphasizing the importance of collaboration among Catholic theological institutions, particularly in light of these two papal documents. Collaboration "must be our approach if the Church is to be renewed, our preaching and teaching be effective, our mission to the world sustained, and our message proclaimed to the`world with clarity, conviction, truth, joy and hope."
The following day at the 2018 Regis College Convocation, Fr. Scott Lewis, SJ, Dean and Vice-President of Regis College, presented Fr. Thomas Rosica to Rev. Chancellor Erik Oland, SJ, provincial of Jesuits of Canada, who conferred on him the degree of Doctor of Divinity, honoris causa. Fr. Rosica said that he was "very moved and most grateful" to have received this honorary degree from his alma mater.  Regis College extends its gratitude to Fr. Rosica for his continuous support and encouragement of Regis College's mission throughout the years.